About Us
Get to Know the History of Our Company
Fenn Termite & Pest Control has spent over seven decades serving Orange County and surrounding areas. Our reduced-risk treatments are designed to provide a safe, reliable pest control experience for every home and family. We are a 3rd generation, family-run business with strong ties to our community and a commitment to environmentally safe, practical methods.
Image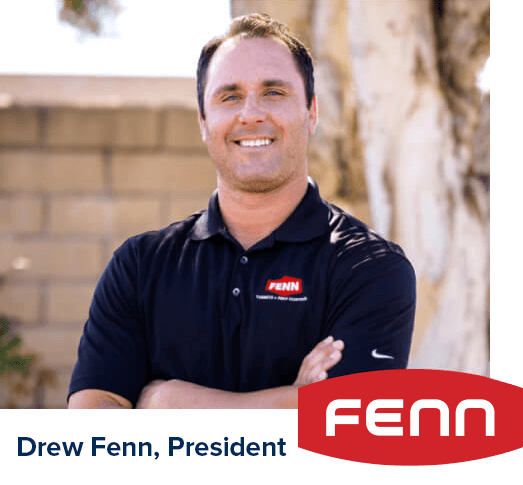 The Fenn Advantage
Our mission is simple: To deliver the best pest control service possible for a fair price. We are dedicated to providing the customer with quality services no matter what, conforming to the customer's high expectations. To improve the economic well-being and quality of life of all employees. To always be honest and deliver the best product in our industry, while preserving the integrity of the environment.
After 60 years of experience in pest control, Fenn Termite & Pest Control can handle any situation. Your safety is our number one priority, and our technicians will work tirelessly to prove it. If pests return, we'll retreat your property for free. Experience the Fenn advantage for yourself.
Cutting Edge Technology
By working with Fenn Termite + Pest Control, Inc. our clients benefit from our expertise in the latest technology through our team's dedication to continuing education. By being up-to-date, we are more able to effectively address the root causes of pest problems rather than simply treating the symptoms.
Problem Solving Specialists
Our pest control exterminators are trained problem solvers. We continually inspect before we treat so that we can assess the problem thoroughly. Attention to detail is a priority.
The latest technologies employed by our technicians include:
Baits for roaches and ants, no smell and no mess. In some cases, no preparation is required
Foam machines for termites and pests
Baits for subterranean termites
Growth regulators for roaches and fleas
Vehicle Tracking
With our Vehicle Tracking System, we can locate a technician nearest to you in the event of an emergency.
Our Clients
We proudly service popular locations throughout Los Angeles and Orange County, including the following: 
South Coast Plaza Mall
Colliers International
Segerstrom Concert Hall
IBM Building (Costa Mesa)
Keystone Pacific Property Management
The Huntington Library
Walt Disney Imagineering
Donald Bren Residence
Universal Plaza
Orange County Performing Arts Center
Knott's Berry Farm
First Service Residential
Citibank (Los Angeles)
AT&T Center (Los Angeles)
Pacific Design Center
Leisure World (Seal Beach)
Equity Office
Irvine Concourse
C/B Richard Ellis Property Management
Huntington Beach School District
Jones Lang LaSalle America 
Western National Property Management
BRE Property Management
Transpacific Property Management
Gold Coast Enterprises
Transwestern Property Management
Tustin Police Department
Arnel Commercial Properties
California State University Fullerton
Essex Property Trust
Anaheim Union School District